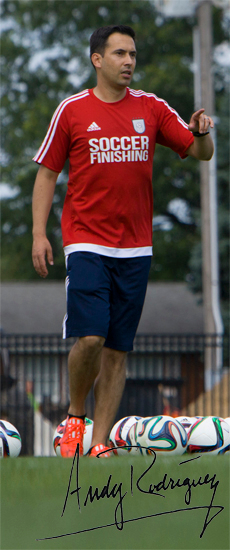 About the Coach
Soccer Finishing founder, Andy Rodriguez, is a former pro and college soccer player, gaining invaluable experience during his competitive playing days. Andy has the inherent ability to use the most effective concepts and methodology and, as a result, has compiled his winning formula into a comprehensive soccer finishing (goal scoring) training program –The Soccer Finishing Method. Andy achieved some impressive goal scoring heights during his career, reaching peak performance in spectacular fashion by scoring more than 100 goals over the duration of his college career. After initially playing as an offensive midfielder during most of his soccer career, Andy converted to a forward-striker role in college, in response to the tactical formation required by his former college coach. Andy needed to adapt quickly so he implemented The Soccer Finishing Method – and produced outstanding outcomes that resulted in his receiving multitudes of awards throughout his college and professional soccer careers. Andy's passion is helping goal scorers achieve their full potential as finishers. He works one-on-one with goal scorers to help them unlock their peak performance. Andy knows well that it's all about improving and perfecting your FINISHING SKILLS.
Andy Rodriguez is a four-year college letter winner. NAIA All-American and earned Honorable Mention status. He was named the NAIA District Player of the Year and was a three-time NAIA All-District selection. Andy was recognized as an All-American all four years by the NCAA as well and helped his college team to win the National Championship. Awarded the National Tournament MVP and named to the All-Tournament Team. Andy was named to the All-Conference team all four years and led his college team to an unprecedented four straight MCC regular season and all conference tournament championships. Andy is also a former professional soccer player and played for the national team U-20. He was named a College Hall of Fame Inductee as well, making him one of the most qualified soccer coaches around.
Have a question about our online soccer training services or company? Contact us to get more information, and make sure to get started on your training today!